April 27th, 2010, 3:47 am
A little delay!
Hi guys, I might be a couple of days late with the new update (sorry, being ill cost me 4 days of effective work).

BTW have you voted for your favorite character yet?

So far... Feetsie (my shy, cute Callista) leads the poll for the Papadopulos! Followed by Cassandra and Castalia comes in third.

As for the Pirates... Wilson Kane is leading, Westley is second and Cat is third on the list (but Cat was second yesterday) wohooo!

Come and vote:
http://thepiratebalthasar.blogspot.com

and check out the new paper dolls!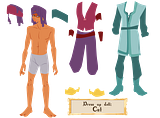 http://www.zazzle.com/dedasaur